Board Members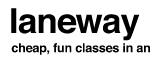 Website Laneway Learning
Laneway Learning hosts informal evening classes in anything and everything, and aims to make education accessible, community-led and fun! We are all about lifelong learning, social connection and bettering mental wellbeing through creativity and play.
We are committed to providing interactive, entertaining and affordable classes. We source our teachers from the community and the community that we create is made up of people from all different walks of life. We strive to bring education outside of traditional learning spaces, making it a peer-to-peer experience.
Our organisation is small but always growing, and is now entering its tenth year. We are looking for new people to join our small board in hands-on roles that want to contribute to this continued growth.
In particular we are looking for people with the following skill sets and experience:
Media and PR
Community engagement
Volunteer management
Partnerships
Business strategy & development
Grants administration
Law & legal services
Technology services
An understanding and love of community education would obviously be beneficial. Whilst involvement with, or knowledge of community education is something that would be welcomed, we are keen to expand the range of experience of the Board.
Other key attributes include:
A personal commitment to the mission, objectives and philosophy of Laneway Learning.
Ability to envisage and communicate alternative futures, see the big picture, be flexible, open to new ideas and think at a conceptual and strategic level.
Ability and willingness to be a team player.
Moral courage and the willingness to confront challenging or difficult issues.
Demonstrated capacity to exercise authority constructively and delegate authority when required.